Post by keen101 (Biolumo / Andrew B.) on Nov 29, 2017 2:07:44 GMT -5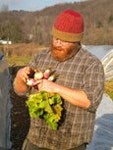 mybighair
was posting on perrenial brassica breeding.
And I was quite active for a number of years, and I've fallen away big time.
Partly because Facebook hooked me (and many others) away. It is astonishing to be in a Facebook Group and be a part of a seed train with insane numbers of people on it. The germplasm I've received from the Kenosha Potato Project has CHANGED MY LIFE. One thing the internet has shown me is that far more people are interested in saving seeds and sharing them than are interested in joining an organization like Seed Savers Exchange and dealing with all the hassle entailed, or being a member of a forum like this and crafting a complex post with hyperlinks and inserted multiple photos from a photo host etc.
The big thing ecosystems like FB and Instagram have is they are designed to make sharing your fluffy quick thoughts EASILY. Posting on a Proboards forum is a PITA by comparison. I don't know if a more updated version of this forum might be different but another BIG problem with HG is that the Alan Bishop has abandoned the thing. So we are left with a forum structure he created almost a decade ago and has never updated and a tiny cadre of remaining moderators (2 or 3?) who have limited capabilities.
I know of no other forum out there that is marketed as a plant breeding forum specifically than this one. Nor one that has such a high rate of unique information. I also like the fact that it is quite world wide. I like when the Australians post and the Canadians, and the Europeans, and those from the UK, etc. Makes for quite a diverse set of individuals and a unique seed sharing network.
I'm not a big user of Facebook myself and don't see myself becoming that involved in Facebook seed groups etc all that much. But it is cool to hear that they can be useful for sharing and spreading of information easily and quickly. I may join more plant groups on facebook over time, but i generally like to be a passive invisible user on facebook. I also never liked the Seed Savers Exchange idea not only because of the catalog membership crap but also the bureaucratic bullsh** that cropped up (*stands temporarily on soapbox* and then steps back down). I noticed they too closed down their forum recently. Maybe the seed savers exchange network can be a guide to seeing an outdated method of communication and involvement fade away.
I personally like the Forum method of communication as it is easier for me to articulate all of my ideas easier (also without sharing it on facebook if i wish to do so), but also longer posts like Rowan has mentioned. Perhaps there is a good way to bridge the gap between the two mediums.
The mentioning that Alan Bishop has abandoned this forum is a big problem as mentioned. Also who knows how stable ProBoards is and whether proboards will just dissapear someday. Not to mention the problem of limited Moderators because Alan abandoned it taking full administrative keys with him.
Joseph Lofthouse recently contacted me about ideas about starting a plant breeding specific forum under OSSI. I guess OSSI is interested in this and is willing to pay for it and make sure it remains for a very long time. I told him i really really really liked that idea. But i also mentioned that perhaps it could be so much more than that. I suggested tacking on a wiki where those who have extensive plant breeding knowledge or those who want to compile a central hub of information into one place could do so. The wiki format is hugely popular with other DIY and open source or community groups and i think could complement a forum quite well.
Another idea i had was to incorporate a wordpress blog into it as well. Certain guest posts could be posted on breeding projects or plant breeding news, or OSSI information, etc. Since Facebook communication is a huge part of this discussion now i think the incorporation of the wordpress blog could help foster the link to help merge the ease of Facebook and the use of a forum. I am testing this now on my old/new website i am in the process of resurrecting. The wordpress theme i am using has a modern facebook, twitter, pintrist, google groups, share button built in to each post. I just tested this feature by sharing a test post with Joseph on facebook. I think it worked quite well. Perhaps something like this could be implemented where the bulk of information could be hosted in a Forum/Wiki/Blog but could easily be shared to facebook or facebook discussions or plant groups on there to gain instant attention and instant sharing. Thoughts? What do you all think?
EDIT: p.s. it sounds like part of the problem is that this particular forum software is old outdated and not modern enough for the times. I am on a few other forums that are very new and they are slick as a whistle. So perhaps not being a modern forum with various tools, etc, is part of the problem. There are quite a few people on those forums. I will try taking a look to see what forum stuff they use. These are open source DIY hackers so i imagine the forum software they use is open source. I think they might even also have a wiki built in. Will have to check on that. and the photo uploading issue is apparently still a problem.